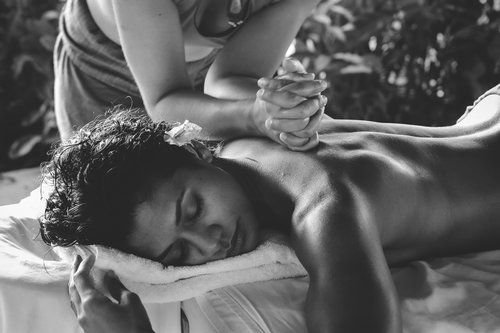 What to Expect From Massage Therapy
Going back to the basics with tips and etiquette for getting a massage!
What to Expect From Massage Therapy
You've scheduled your first massage and you're not entirely sure what to expect. You may even be feeling a tad nervous. After all, a stranger will be touching you --- while you're naked? Feeling uncertain about the customs and procedures practiced in massage therapy is incredibly common and even causes some to abandon openness to the experience altogether. To those of you who aren't sure that massage is for you, or to those who just want to know what to expect, I have outlined common etiquette for massage therapy and some tips for getting the most out of your massage.
Assessing Your Needs
It is commonplace to schedule a 60 or 90 minute massage, although 30 and 120 minute sessions are sometimes offered as well. You can determine the massage length best suited for you when you consider your needs for getting a massage. Some things to consider when assessing your needs and how long of a session you may need:
Are you wanting to address specific pain?
Are you wanting to address several areas of pain?
How bad is your pain?
Are you wanting to zone out and relax?
Do you want to relax and get in some focused work?
Think about how much time you'd like to dedicate to problem areas or relaxation and go from there!
Intake & Pre-Massage Communication
Arrive to your first session around 10 minutes early in order to complete an intake form and to get your full time on the massage table. The intake form will ask for basic contact information and your medical history. Some medical conditions are contraindicated for massage therapy so be sure to let us know about any important medical conditions before the massage starts either via the intake form and or by speaking directly with your massage therapist.
A part of the intake process will include questions about what is going on in your body. This is the best time to let your massage therapist (MT) know what hurts and what your expectations are so they can consider how to meet your therapeutic needs.
Are you feeling nervous for your first massage? Are you ticklish, modest, allergic to any type of oils? Do you want a session free of non-massage related conversation? (I say "non-massage related" conversation because it is important to allow your MT to communicate about pressure, comfort and discomfort, etc.) Some people prefer quiet while others prefer to chat through their time on the table. Either is welcomed and letting your therapist know if you'd rather zone out is totally okay. The time you spend with your massage therapist is all about YOU so be sure to let them know ahead of time what your preferences are so they can accommodate you. Communication is key!
Clothing and Privacy
After your massage therapist has looked over your paperwork and spoken with you about your needs and expectations, they will tell you to undress to your comfort level after they've stepped out of the room. They will also instruct you on how to lay on the massage table (face up or down, head here or there). Waiting for your massage therapist to leave the room before undressing is best practice. It is common for people to leave their underwear on or to be completely nude - it is truly at your discretion as you will be draped throughout the entire session. Your massage therapist will take careful precautions to not expose you by carefully tucking the sheets around the areas that they are working on.
During the Session
If you have an idea of what level of pressure you prefer, let your therapist know this as well. They may ask you before the session and/or may check in with you throughout. Different areas of the body can sustain and prefer varying levels of pressure so speak up if something feels uncomfortable or if you feel you need more or less pressure. Click here to learn more about pressure and massage therapy.
If you ever feel that the music is too loud, not loud enough, or you dislike the music altogether, or if you're feeling too hot or cold - let your therapist know. Your MT typically has a solution for these things and letting them know will help increase the quality of your massage experience.
Do your best to relax during the session so your MT can do their magic. Here are a few tips for relaxing while getting a massage:
Close your eyes
Minimize talking (if your MT is talking too much, tell them you want to focus on relaxing and would prefer not to chat)
Focus on your breathing
Do a head-to-toe body scan and check in with all of your muscles: Is your brow furrowed? Are you clenching your hands or jaw? Identify the areas you feel tension and, like Elsa, "let it gooooo!"
Trust that your MT has your best interest in mind
Post-Massage Communication
Final Thoughts
Coming in for your first massage can be a little intimidating if you don't know what to expect. If you consider the above mentioned suggestions and etiquette, your massage therapy session should go smoothly. You can also visit our FAQ section for more information. Please email or call us if you have any additional questions or concerns!