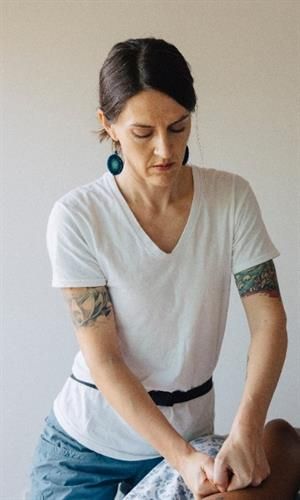 Anjani Visan, LMT
Anjani joined our local Fort Collins massage therapy clinic in July of 2022. Therapeutic touch has always been an important part of Anjani's life, and she was lucky enough to meet some inspirational massage therapists who urged her to give this career a shot. Anjani studied massage at ASIS for an 800 hour program that covered a large variety of therapy techniques including Swedish, NMR, Connective Tissue, Shiatsu, Reflexology, Cranial Sacral, Sports Massage and many other less known therapies. In the 8 years that Anjani has practiced massage therapy, she continues to learn and hone her massage skills with new techniques and growth. Depending on the needs of her clients, she uses a tool for cross fiber friction, the Hypervolt for percussion / vibration, and the Facial Abrasion Tool for connective tissue.
There are two factors that have helped Anjani become a better massage therapist; Curiosity is by far the greatest motivator for her study in various therapies, and a vast interest in Anatomy and Physiology. In addition to curiosity I have accumulated many injuries from climbing over the years. Every injury has increased my understanding of the tissue(s) involved and the surrounding joint.
My favorite hobbies include: making micro macrame jewelry, relearning cello, sculpting or throwing on the wheel, going to the dog park with my Australian shepherd, and spending time with my family and friends. My favorite outdoor activity is climbing. I mostly boulder at this point, but really love and hope to go back to Sport climbing when falling or jumping from a rock doesn't work for my aging body.
Anjani currently works:
Mondays: 11am – 7pm

Fridays: 9am – 5pm

Saturdays: 9am – 5pm